Momento Personal
Momento Personal = {Language: from Latin persona} {Adjective} intended for use by one person
Always know the time remaining until your next scheduled activity.
Cognitive.RS Momento Personal is a product specifically designed to make it easy for a person involved in an event, to know what the next scheduled activity is and how much time is left before it commences. Download a shared event schedule into Momento.Personal and it will display on your device.
Easier than a clock and a timetable. Momento Personal continually displays and counts down the event schedule making it easy for you to know when and what is happening next.
Countdown Display
Momento displays either how long until the start of the next session, or if you are currently in a session, how long until it ends.
Multiple Devices
Built to run on Phones, Tablets, PC's and Android TV's
Schedule Display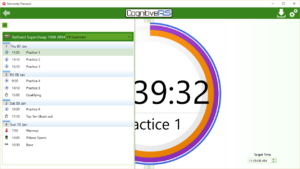 An entire schedule for an event can displayed.
Pricing
Momento Personal is free to use, on as many devices and/or platforms as you want, for as long as you find it useful.
You will have access to all updates as they become available.
Please contact us with any suggestions/comments you have about the product, and if you like it tell your Colleagues about us
Select your required Download